Mulberry Lane Babies
1941New life brings joy and intrigue to The Lane!

Times are hard for all on Mulberry Lane as the war rages into yet another year. Desperate times push people into dangerous situations, and the residents of Mulberry Lane are not exempt. Menacing shadows lurk on dark street corners, threatening the safety of those who are alone and vulnerable. When Peggy's twins are born early Maureen and Nellie are there to lend a helping hand. The mothers of Mulberry Lane stick together despite the grim conditions of war torn London and a shadowy fear that stalks their lives. Neighbours and friends look out for each other and new life brings hope and joy to the Lane.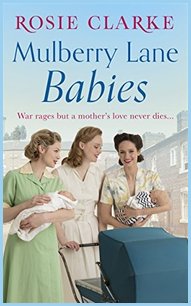 Published by: Aria Fiction
ISBN Number:
Available from: www.Amazon.co.uk