All Their Days
Even as a small child, Nellie Pearce sensed that her mother did not love her. But she always had her Grandad and her beloved Da - until, on her fourteenth birthday, her mother sends her into service with the Harringtons of Beaumont House.
Nellie fells abandoned and miserable. Then she meets Lucas Harrington, a brilliant artist, though fearfully scarred and possessed of an unpredictable temper. Since his accident he has become almost a recluse, but there is something about the young girl that makes him feel compelled to paint her. His gentle-natured Aunt Alice encourages the unlikely association between master ans servant, ignoring the inevitable heartbreak and disillussion it must bring...
Soon after the outbreak of the Second World War Nellie is offered another chance - but will the secret of her mother's tortured past destroy both her and the man she loves, or will she find happiness?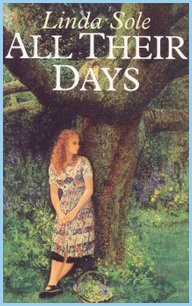 Published by: Piatkus
ISBN Number: 978-0708937457
Available from: www.Amazon.co.uk