A Very Special Mother's Day
Indulge all of your romantic senses with these two brand-new stories...
A Wicked Lady - Anne Herries
Masquerading as a French Comtesse, Margret Hazelmere quickly becomes the target of the Lord Giles Benedict. Giles detects the Comtesse is hiding something and, suspecting she's a French assassin, he determines to investigate her... But as they fall in love, dangercomes ever closer. And although Giles would give his life for Margaret's - will she still love him when she discovers the truth...?
Secrets of the Outback - Margaret Way
Jewel Bishop has made a devestating discovery - she's not who she thought she was. So she leaves the Outback to search for the truth and to find her real father. When she meets Keefe he seems suspicious of her. In fact, Keefe suspects his business partner is Jewel's father, and wonders what she is really looking for. is it money? Vengeance even? Whatever the truth, Keefe recognises in her a strength and passion to match his own...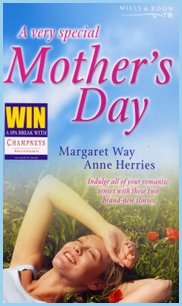 Published by: Mills & Boon
ISBN Number: 978-0263845280
Available from: www.Amazon.co.uk